The pattern of a baby blanket with a crochet pompon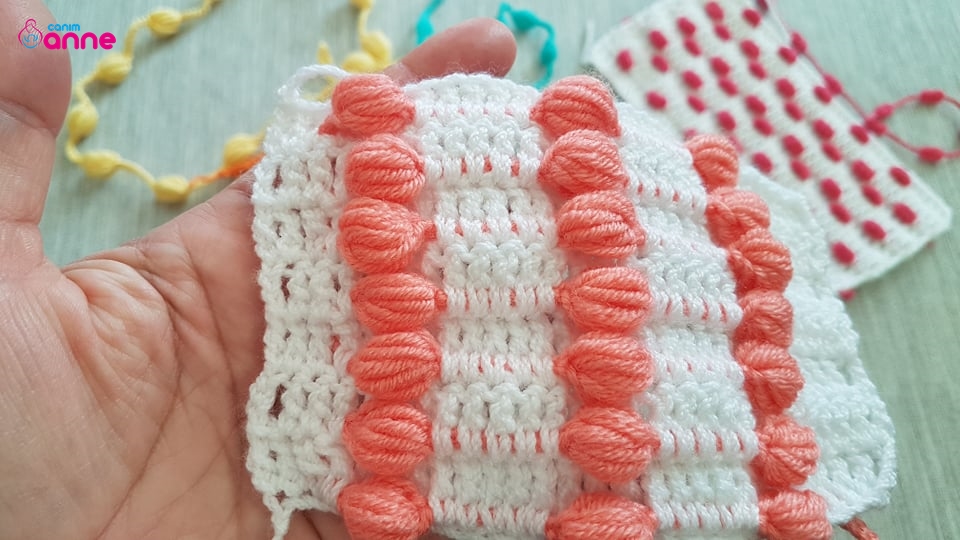 January 6, 2022 3:04 pm
22 VIEWS
You can use crochet pompom baby blanket Patterns as multi-purpose knitting Patterns and you can apply crochet pompom Patterns fondly in blanket Patterns.
You can also prepare the pompom details with the desired type of rope and use it as knitting patterns. Decolor the puffs and the wonderful baby blanket patterns will be among the patterns that will appeal to the eye. We think it will be a useful knitting study to evaluate the ropes you have. In addition to blankets, you can also include knitting patterns such as fibers, vests. You can also find stylish baby blanket patterns with video narration on our site.
Patterns of baby blankets with crocheted pompoms:
You can choose the type of rope you want.
Choosing the right crochet for your hand
Making patterns: First we prepare the pompon detail. Pompom Patterns are also prepared quite easily. Let's take ten chains, let's take four filled peanut patterns into the ninth chain,
In the future, let's adjust and pull the number of chains according to the patterns you want to create patterns, we are applying the handrail technique. You can adjust the number of handrails according to the thickness of the rope and the large and small size of the pompom detail. We make three handrail Patterns and decoupage patterns, decoupage the pompon detail that we have together. You can apply Detailed Patterns by watching the video narration for the opening. Good luck..
As always, we will be waiting for you for all kinds of questions, suggestions and requests in the comments section of the video, your comments are very valuable to us, so we are trying to respond as quickly as possible, let it be easy already.
Don't forget to click on the link for crochet knitting Patterns, blanket Patterns, baby blanket Patterns, all of them and more. We would be very happy if you would support us with likes and shares on your social accounts. Your shares are very valuable for the continuity of video narrations.