Making foosball table out of a shoe box
September 19, 2016 10:00 am
1.573
This is a special project choosen from do it yourself ideas made for your children and you to have fun together.
Today we will find about how to make a foosball table out of a shoe box. For the fossball table we will need clothespins, a knife, a shoebox, spray paint, hot glue gun, wrapping papper, duct tape,ping pong balls and dowels.
First you have to decide ,how many players you want to use for the game,because this will set up the number of the dowels and pins necessary for your game. Start with making holes with your knife through the shoe box on both sides.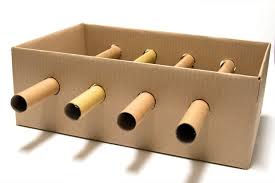 Push the dowels through the holes.Put the clothespins on the dowels and glue them tightly. Spray color your dowels with clothespins in two different colors. Cover  the shoe box with wrapping papper. You can use duct tape for sticking your papper. So your foosball game is almost ready .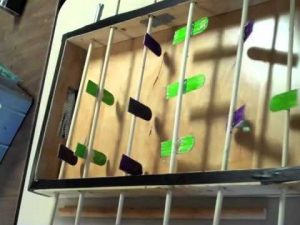 You only have to cut out a hole at both ens of the box for goals. Keep in mind that you have to use a bigger shoe box for a bigger foosball game.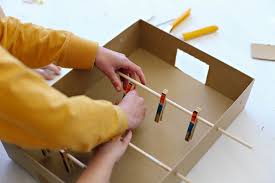 As your foosball game is ready you can start to have fun with your child with your do it yourself project. A foosball game is a good idea for the whole family. You can have fun all together while playing foosball. The foosball game is not only fun for boys girls love it too.