Making Bracelet with Macrame Rope
Macrame; without any knitting tool made by hand and made from rope passing through each other is a kind of knotting techniques. Seem difficult at first glance, but made with macrame rope special construction is so easy and fun with a knitting art.

All kinds of clothing, decoration and accessories made of macrame rope field is quite possible to find objects. Various baskets for decoration, the pendulum also various accessories such as bracelets to be done, bangles and jewelry made. Handmade bracelet made of fairly simple and elegant are installed. By the color you want and you can combi models for all kinds of clothes. What do you think construction is simple and easy to make a bracelet?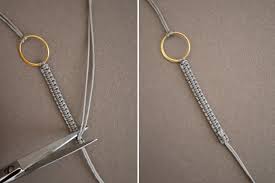 We primarily use macrame rope in two different colors. You can adjust the thickness of the rope yourself. The length is approximately twice to wrap your wrist should you prefer rope. Two different rope to fold in the middle of the ring and make them more make a ring with the rope on the left side.
Spend inside the ring a same end we begin to build our way to spend the bottom of the location of the intersection of the two rings. Both sides with two ropes are pulling gently from side to side. Again, make a ring on the left hand side of the area intersects the other end of that spend away from the bottom ring rope before we do spend the second shape. We continue working in this way. We're putting a bead combine and ends after a total of 6 forms. We connect the end of tightening. We set fire to cut the remaining part of the era. The process of burning rope bead will prevent distortion of the paste and leave the rope. We are completing our first ring was left to spend bracelet.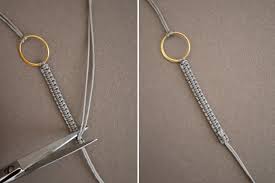 The view is quite regular and elegant can make it ideal for all kinds of clothes by color we want this bracelet. We can decorate attaching small beads during construction.