Make Hangers with Pebbles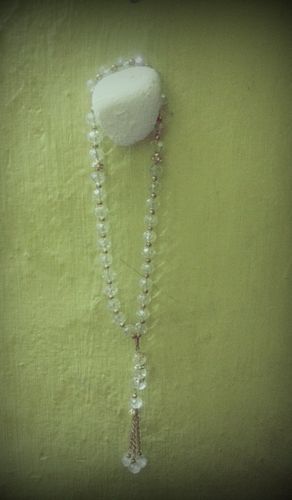 Hi Ladies!
Today I would like to tell you about do ıt yourself project in this article. But today our main subject is hangers with pebbles for our accessories. All women have accessories and we really love all of them. And of course I have a lot of accessories and I need some hangers for my accessories.
The subject of organization of other accessories and necklaces is a subject that worries me at times because I forget to wear as most I have pretty smoothly in drawers and compartments, where you do not see it ever. What I have seen many times in many website, a hanger with many holdfasts, I really liked it, but I would seem somewhat unrelated and weak in a wall without long furnishing to the frame.
So, I thought my favourite pebbles to do something evident, cheap and handy.
All they needed for these hangers with pebbles:
A strong adhesive double-sided tape special for your walls to be removed without harm to the wall and can hold objects weighing,
Several pebbles on light or dark what you like and with one side flat. In straight side adhere a small piece of masking tape and adhere to the wall height and the distance I wanted. Then you can hang various accessories. I have neck and sanguinely from now to remember to wear!
If you like this dıy project you can make and gift it your family and your friends!
I hope you will like ıt!