Knitting Mat
August 7, 2016 10:00 am
1.763
I think mats are confident and they are cuter than carpets. I love all the mats. It doesn't matter what materials you will use. Cotton, fabric, knitted or crochet. I just love all of the mats. I use them in my bathroom, kitchen and bedroom. They seem so pretty in everywhere. And today I would like to explain you how to knit a bathmat for your bathroom.
You will need these materials for your bathmat;
7 large t-shirts or 90 1″ strips cut from 56″-58″ wide 100 percent cotton knit fabric,
Size 15 (10.0mm) 29″ circular knitting needles.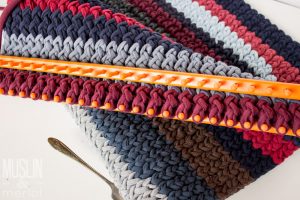 If you using your old t-shirts, cut shirts into bands widthwise through both layers with a rotary cutter. (you can use arms, hem and collar for filling your next pillow.) Cut circular bands apart at one end, flat strips, making long.
Connect the 1″ bands together to create "yarn" by cutting a lengthways opening in the end of each band (like a marrow) and pulling the next band through that opening-like putting two rubber strips together.
Cast on 50 stitches. Knit as many rows as you like-the more you knit, the longer your rug. Cast off. Your bathroom better than the older. Such as produced at the factory.
That's it! You see ıt is really easy and practice. If you don't know how to knit them you can also do this mat. You can do this and gift to your best friends.
Then, if all is ready you can start your mat. Please be careful about their beautiful young eyes! Good Luck!