Funniest way of cooking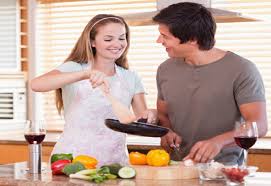 June 28, 2016 9:42 am
1.240
Cooking is  a very necessary and inevitable part of our lives. Cooking is a must and besides it is fun. You must nurture yourself and your family ever day. So why not be a little creative and make the job funnier for you.You should try to cook funny dishes even if you are on a diet. You can prepare yourself a.salad but it musnt be an ordinary one. Make yourself a salad with smiling vegetables.Why not design your salad with funny sliced tomatoes and cucumbers. Design a face with vegetables ,add eggs and olives for creating the eyes and make the mouth out of carrots.So you can enjoy your diet instead of eating ordinary food.
Cooking funny dishes is very inspiring for your child too. You can make a nutritious hamburger for your child but still make it healthy by putting some vegetables as side dish. Do not forget to decorate your plate.You can make funny faces,animals with food in order to make the food more desirable.
You should know what to be careful about while cooking.
When you are cooking,try to cook healthy and nutritious food.Do not use  too much oil and sauce. Prefer a low calorie diet to a high calorie diet. You can still eat macaroni or rice without adding oil,gaining less calories. Make your sauce with tomatoes and basil. Add a little tuna. You give your food a shape. And in this.case why not create your pasta in shape of a tuna fish!