Crochet Sock & Slipper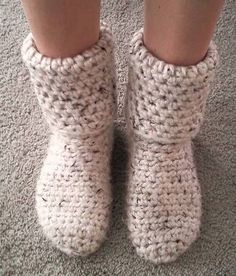 September 5, 2016 6:05 pm
19.557
Why not make these wonderful sock booties, excellent for adults and kids? With an simple basic pattern that can be adapted to suit anyone? Perfect for the more advanced crocheter alike and beginners. I can not believe how many times somebody ask me for this crochet style and this year my husband requested a new pair. I have Included step-by-step photos to keep you on the right trace.
I must confess love making crochet sock & slipper because not only are they fast to make but popular as handmade gifts for friends and family. They are fast and make perfect last-minute crochet projects.
Our family has comfy long legged sock and slipper booties for wearing in the house. We can keep our feet comfy and warm in our matching socks and slippers.
This is an real pattern and belongs solely to me. If you want to share this sock and slipper pattern please do so with a link to this page.
Warm Wooly Socks
Winter socks never go incorrect and I also love mine worn around the house as slippers or tucked into my winter boots.
Special Notes, Stitches and Terms Used
I used size 4.00mm (UK) hook and double-knit thick aran wool. This made a perfect size 6 (UK),
European 39 or US 8.5.
For a smaller size I use one strand of double-knit yarn and a size 4.00 mm hook.
You can gift this socks for your friends and your family! I hope you will like ıt!