Butterfinger Chocolate and Peanut Butter Lush
Butterfinger Chocolate and Peanut Butter Lush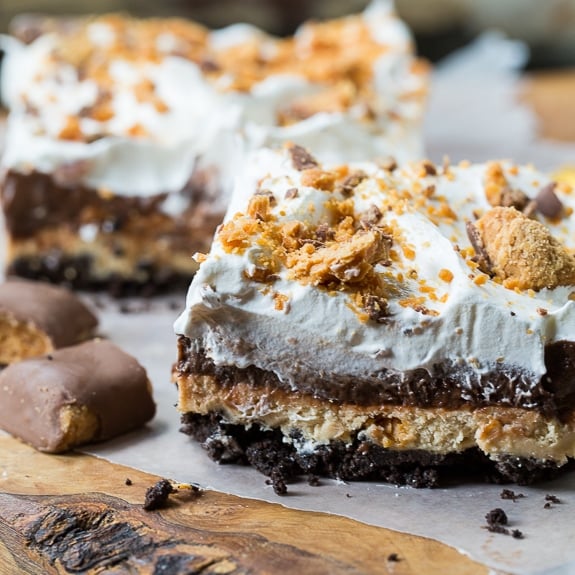 So many delicious, creamy layers and the buttery crunch of Butterfinger candy. This Butterfinger, Chocolate, and Peanut Butter Lush is pure heaven.
When I saw this Chocolate Oreo Peanut Butter Dream Pudding recipe from Seeded at the Table on Pinterest, I couldn't make it fast enough.
And it got eaten even faster.
I got to meet Nikki of Seeded at the Table at a White Lily event last month and I immediately liked her. Just as much as I like her dessert.
There are of course many variations of this dessert- all of them amazing.
But the combination of chocolate, peanut butter, and Butterfingers makes this one hard to beat.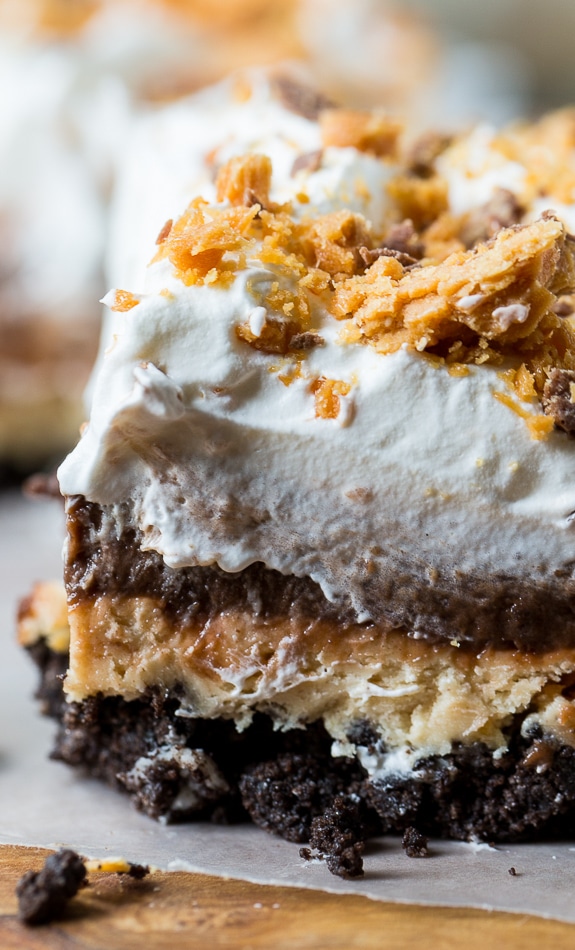 Not to mention a crust made from Oreo cookies.
Yes, this dessert is quite sinful and very worth every single calorie.
The oreo crust is topped by a rich peanut butter and cream cheese layer with crushed Butterfingers mixed in.
Then comes a layer of chocolate pudding, followed by a Cool Whip topping and more crushed Butterfingers.
Dessert doesn't get any better than this.
Cool, creamy, and delicious!
Never miss a recipe! Follow Spicy Southern Kitchen on Pinterest and Instagram.
Sign up HERE for the Spicy Southern Kitchen Newsletter.
Butterfinger Lush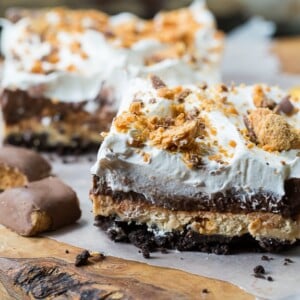 Recipe type: Dessert
Serves: 18
Ingredients
32 Oreo cookies
5 tablespoons butter, melted
1 (8-ounce) package cream cheese, softened
1 cup confectioners' sugar
¾ cup creamy peanut butter
1 bag mini Butterfingers
1 (16-ounce) container Cool Whip, divided
1 (5.9-ounce) box instant chocolate pudding mix
2 cups milk
Instructions
In a medium bowl, stir together crushed oreo cookies and melted butter. Transfer to a 9X13-inch baking dish and press firmly all along the bottom. Refrigerate.
Using an electric mixer, beat cream cheese. Gradually add confectioners' sugar. Beat in peanut butter. Fold in 1 cup of Cool Whip. Crush 6 mini Butterfingers and fold them into peanut butter mixture.
Spread peanut butter mixture evenly over oreo crust.
In a medium bowl, whisk the pudding mix and milk together. Let sit to thicken for a minute or two and then pour over peanut butter layer.
Spread remaining Cool Whip on top. Crush remaining Butterfingers and sprinkle on top. Refrigerate until ready to serve.
Notes
The Butterfingers are really easy to crush while they are still in the wrapper. Just use a rolling pin to tap them a few times.
Recipe slightly adapted from Seeded at the Table.
More Layer Desserts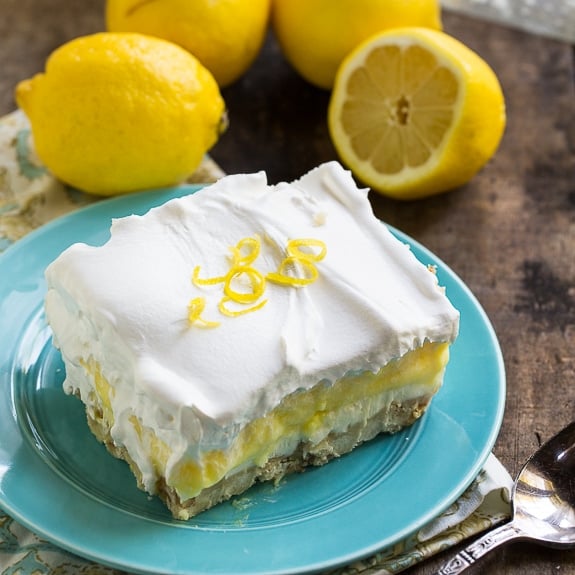 Lemon Lush
Chocolate Chip Cookie Delight
Disclosure: This post contains affiliate links.