Bird Feeding Swing Made of Ice Cream Bars
January 26, 2017 1:00 pm
4.491
It consumed more often in the summer and the bar is much more preferred by children with ice cream bar ice cream bar, which many of us refuse to assign. Apparently it is done nor beautiful accessories. I'm sure most of us after reading this article we will maintain these bars. Now we'll swing from the bird feeder bar. Our necessary materials, adhesives, appropriate size rope, ice cream bars.
If you are unable to find it ice cream bar, you can make the tea and coffee stirrer sticks sold in markets. Come on, let's start this beautiful accessory.
First we have to build the base of the bowl. A rod length is sufficient for that base. Let's put side by side about 11 bar. Two bars below the base adhesive on one plowed Let's start fixing the manger by building up the other. Let's just put to the bottom of the same.
Now there was a full frame manger. We're just put a one more to the two opposite side. We're just put side by side in the middle of the edge of the cut in the middle of a bar feeder. Two bars on all sides and about half a persistent glue sticks Let us again. Let's make this process more than 4-fold. Now it began to emerge the shape of the feeders.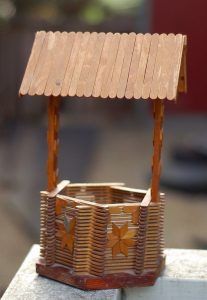 I cut the two rope we use. Let a part of the bottom bar from the left to the right of the other feeders. As to be done in this way. Let them all nodes connect 4 tips that we had from the stall.

Bird food container has become ready to hang garden. We had a great design swing feeders for birds unable to find food for cold winter days. If you wish, you can hang it on a balcony. Garden and was practically a decoration to our balcony. You can also try different Decorations by painting sticks.