Amigurimi Monkey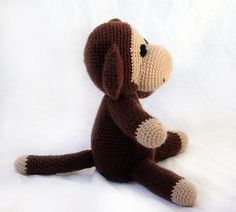 August 23, 2016 7:41 am
2.418
Today I would like to tell you some information about Amigurumi monkey pattern but at time our major subject is amigurumi monkey which is very simple to do and funny after we finish to manage for our children.
As I have informed you former articles, amigurimi and knitting is the most popular in all over the worl and getting more preferential by homemaker who would like to develop themselves on amigurimi, knitting and crochet something in their spare time at home.
For an amigurumi monkey, you can get instance for your amigurimi project and get free patterns in the many website. After you check the free amigurimi patterns, you will get that it is really very simple to knit it around and do your own small touch to make your distinction on your amigurimi monkey. When you finish your amigurimi monkey, you can give it to your baby to play or you can gift to someone who your best friend's or your sister's baby. It is very healthful for the babies and children when you crosscheck amigurimi monkey with plastic or other material monkey. Here are the some materials that you will need for start your own designed amigurumi monkey:
100 gr. Brown yarn,
Toy stuffing,
Scissors,
Blunt end yarn needle,
3mm. crochet hook,
Yellow yarn,
Red yarn,
50gr. Beige yarn,
Stitch marker,
Brown embroidery thread.
If you have all of the materials, you will be ready to start your amigurumi monkey project which will give you nice and you will test your knitting talent while you are designing your own amigurumi monkey.